Welcome to Micro-SaaS Monthly! In this very first issue, we take a look at the entire acquisition process from start to finish. This is a doozy of a post, clocking in at just about 3,600 words. For that reason, I might recommend that you read this in the browser instead of in your email client. You can do that (as well as read any future issues) on the web at https://microsaasmonthly.com/
With that said, let's get into it!
For more than a few years now, I've been on FE International's email list as a buyer looking at various businesses for sale. I've always been interested in going through the information provided on these businesses and thinking about how I'd add value if I bought a particular business or what things I might change. Each prospectus from FEI along with other resources including Buy Then Build, SMB Twitter and reading everyone's stories were interesting to me, but the businesses discussed in those places always seemed out of my price range. In addition to that, many were real-world businesses, when all my experience as a developer was telling me I'd be better off running a web-based business.
Then late last year I started seeing platforms like IndieMaker and MicroAcquire and realized that I could use the knowledge I had been picking up about acquiring businesses and apply them to what many were calling "Micro SaaS" businesses that were in my price range and needed my particular combination of development and marketing skills to grow. This was by no means an original idea and once I dug into the niche a bit, I found lots of people doing this.
Notably, I found Eyal and his MicroAngel fund that he was documenting via his newsletter (and is the inspiration for this newsletter, thanks Eyal!). With all this coming together, I realized it was time to start seriously looking for a business of my own to acquire.
Going it alone or finding partners?
The next decision I had to make was whether I would be on this adventure largely by myself or if I wanted to bring in partners. As I spend most of both my time as well as have a fair amount of capital in use with Alpha Particle, bringing in partners would allow me to buy a slightly bigger businesses as well as have a more diverse skill set to help the newly-acquired business grow.
I originally pitched the idea of acquiring a small software business to my friend Yvonne of Flowspoke as well as my business partner Jay and both were on board. Yvonne is a fantastic designer as well as developer and I knew she would bring an eye for cohesive branding and design to whatever we ended up with acquiring as well as being able to help with some of the code from time to time. Jay is in charge of operations for Alpha Particle and my first call when I have questions about the logistics of running a business and I knew I could use that knowledge and experience here as well.
As we are all pretty experienced in the WordPress space and with the fact that both Alpha Particle and Flowspoke are focused largely on WordPress, we thought it would make the most sense to acquire a WordPress-based business of some kind. With the team assembled and an agreement in principle as to what types of business we were looking for, the search could begin in earnest.
False Start #1: WooCommerce Plugins and Themes
I started to get excited when I saw this prospectus from FEI land in my inbox that detailed a portfolio of "21 plugins and 3 themes for WooCommerce store owners". With COVID-19 radically changing how businesses operated and moving tons of stores online, I believed that WooCommerce was only going to continue to grow as previously brick-and-mortar-only stores were going to come online, either out of necessity or by choice. This was by far one of the biggest deals that I had ever seriously looked at, with a listing price of $128,000. Because of that deal size, I made sure I pored over the prospectus and even developed a "pitch deck" (even though we'd only use it internally) so I could have Jay and Yvonne check my assumptions about what we might be able to do with the business.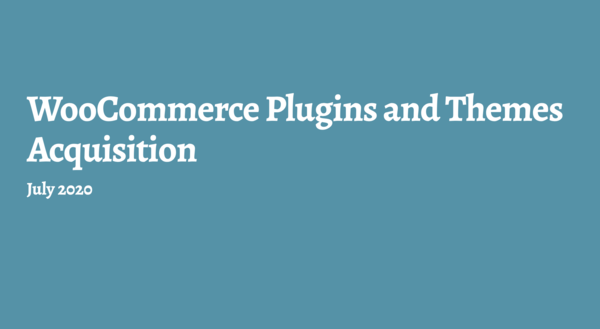 After going through the deck with them and making sure they agreed with my assumptions and projections, we realized that this deal was going to cost more than we had liquid, even with the three of us going in together on a deal. So we decided to reach out to a contact at Chase to talk about an SBA loan (a strategy very popular with SMB Twitter and a bunch of the other books and articles I had read about acquiring companies). Unfortunately, there were two factors working against us here:
• The business was based in Ukraine, meaning that while it had financials and we could use their payment processor to verify revenue history (I believe they were using Stripe), Chase told us that without US tax returns, they would likely not feel comfortable loaning us the money to acquire this business.
The business was based in Ukraine, meaning that while it had financials and we could use their payment processor to verify revenue history (I believe they were using Stripe), Chase told us that without US tax returns, they would likely not feel comfortable loaning us the money to acquire this business.
Because of the overwhelming demand on the SBA due to COVID-19 and the PPP loan program, there was a huge backlog for any requests that weren't PPP related, which meant that even if we were approved the entire process would still likely take at a minimum 18 weeks, with no guarantee that it would be that quick. From what I've seen with FEI deals, most don't stay on the market nearly that long.
With these two factors in play, discussions with Chase fizzled pretty quickly and, sure enough, I was informed that the business was under contract just a couple weeks later. We learned a lot by going through this version of the acquisition process, but the biggest thing that I learned is that we should probably set our sights a bit lower in terms of revenue and asking price. We needed something we could acquire in cash so we had a bit more control over the process.
💡
Looking for more content like this? Click the subscribe button (down in the bottom right corner of your screen) and you'll be the first to know when anything new drops!
False Start #2: WordPress plugins for Divi
It was about this time that I noticed Iain Poulson had started flagging WordPress businesses for sale in tweets of his. I saw this particular Tweet about a business for sale on Flippa and was immediately interested:
It was a WordPress business, it was doing decent revenue (~1k/month) and it was definitely closer to the range we could afford. The buy it now price was set at $20k, which seemed a bit steep, but I figured it was worth digging into the numbers a bit and seeing if we could maybe pick it up when the auction expired for less than the buy it now price if no one bid it up.
The numbers looked pretty good from the outset and we set up a call with the seller. Ryan was super easy to talk to and he walked us through all the basics of the business and answered every one of my questions. One of the main sticking points was that because of a transition the business was going through at the time, the subscriptions would have to be manually renewed and transferred to a new platform. This made me a bit hesitant because it sounded to me like this could potentially make churn of existing customers a huge factor going forward. One of the reasons we were buying a business rather than building one from scratch was because of the already-established customer base, so if we were going to lose this slowly over the first year, that would erase most of the benefit of buying an existing business.
Again, Ryan offered to help as much as he could with this transition and I have no doubt that he would have, but after discussing it internally a bit more, we realized that Divi (and the pagebuilder market in general) wasn't a market we were interested in being in, so we didn't submit a bid to the auction. The business ended up being sold for a final price of $11,102, a steep discount on the Buy It Now price, but pretty close to the buy target we had set internally at the start of our serious consideration. I hope whoever is running Campaign Plugins these days is doing well!
Time to get serious
Seeing all these deals on marketplace and platforms was great because it allowed us to get a sense of what was out there. However, we had a few disadvantages that made actually acquiring a business through one of these platforms difficult:
We didn't have a ton of available cash and most buyers wanted an all-cash deal.
Since we were first-time buyers, we didn't have a track record to show for acquiring businesses
We weren't doing this full time, so we naturally moved a bit slower than some others who were talking to the same sellers
One of the things I had heard about in my initial research is the fabled "off-market" deal. This just means finding a business owner who wasn't publicly stating their intention to sell their business, but might be interested in doing so when presented with the right offer. With that in mind, I wrote up a quick Twitter thread detailing a bit more specifically what kind of business we were looking to buy and shared it as widely as I could:
As of this writing, that tweet had almost ~9k impressions, which is by far my most popular tweet (which I would hope it is, given how much effort I put into getting as many eyes on it as possible). We got lots of great responses and outreach based on this tweet, mostly from private Slack teams that I'm a part of and Twitter DMs.
After going through the replies, 2 solid businesses jumped out as being potential good fits for what we were looking for. Both were solidly in our revenue target range and both were plugin businesses that were clearly popular with users.
The first was a collection of utility plugins that had specific functions to do things like protect content, inject ads, accept payments, integrate forms and much more. It had only been launched in the first half of 2020 so was relatively new still, but had a solid trend of upward revenue with plenty of potential for growth. One of the reasons I was so interested in this business was because since there were lots of smaller plugins, there was a greater opportunity to expand in many different directions.
The other business that we wanted to look at pretty closely was Kanban for WordPress. I first met Corey, the owner, at a conference in 2016 where he was speaking about his experiences having run Kanban for WordPress for a year at that point. In the years after that, I'd run into Corey a couple more times at different WordCamps and we'd chat about how Kanban for WordPress was growing and changing into a sustainable plugin business. So when he reached out to me through the Post Status Slack club and said that he would potentially be interested in finding a new home for Kanban for WordPress, I was very interested. Because Kanban for WordPress had a much stronger history and more historical financials and because I already knew Corey, we decided this was the deal we were going to pursue.
Target acquired: now what?
Since Jay and Yvonne didn't know Corey, we set up a call with the 4 of us to kick off the process. Corey was very open with us about how the business had been doing the past 2 years, many of the numbers (at least in broad terms) as well as what he was hoping to get out of an acquisition. Jay, Yvonne and I agreed that this could be a great opportunity and we quickly sent Corey a Letter of Intent, outlining the price that we had all agreed on over the phone and what some of the next steps would be in terms of due diligence.
We agreed on $15,000 as the purchase price which, with revenue hovering around $12,000 per year, came out to about to about a 1.25 multiple. With the initial negotiations out of the way and the LOI signed, it was time for us to dig in on our due diligence. We reviewed the codebase, both of the current version and the soon to be released v3 as well as the financials from Stripe and PayPal and the traffic from Google Analytics.
Side note: If you're looking to buy a Micro SaaS business and are interested in having some help with technical due diligence and reviewing any codebase that you'd be inheriting, especially if it's on a PHP-based stack, send me an email at k.koppenhaver@gmail.com.
All the numbers checked out with the informal brief Corey had given us originally and we felt comfortable moving forward as outlined in the LOI. At the same time, we were working through some of the logistics of the partnership on our end.
Stumbling Block #1: LLC Formation
Even though 3 of us were going to go in on this deal, we hadn't formed an LLC ahead of time and so were going through the process as we performed our due diligence and reviewed the deal. There's a bit of paperwork involved and once you submit that paperwork, things are kind of out of your hands until your hear back from with state with the status of your filing and (hopefully) all your confirmation paperwork. For my next acquisition, I think it will make more sense to have the legal side of things sorted before I'm even in serious conversations about a deal. This is one of those things that first-time buyers might not know ahead of time and one of the reasons that sellers are usually more comfortable with someone who's bought a business like theirs before.
Stumbling Block #2: The Bank
We decided to go with US Bank for our banking (just a checking account and debit cards at this point). Since Alpha Particle (the consulting firm I run with Jay) already had our accounts set up there, we thought this would be the most convenient option. However, between Yvonne not having been a US Bank customer before, paperwork delays on the part of the bank, needing to wait for the LLC paperwork to come back as well as the need to have a bunch of other paperwork in order, this process took way longer than I had hoped. Even after the account was officially set up, there were a couple more delays that made it so that Alpha Particle had to wire the initial down payment to Corey directly because the bank account wouldn't be ready in time and we didn't want him waiting for the first portion of his payment.
Some of this can be chalked up to me being an impatient millennial who's convinced everything should have an API or have automated fulfillment, but even so, I had hoped for this part of the process to be a bit more streamlined. For my next deal, I think I'll look at more 21st-century banks and see if there's a bank out there focusing on these sorts of companies and transactions who might be able to make this process a bit easier.
The Finish Line is in sight
At this point, we had agreed on all the terms, Corey's lawyer had reviewed the purchase agreement we had set up, we had agreed on wording changes, and we were ready to go.
Side note: Most of the legal documentation that we used throughout this process was sourced from Eyal and his MicroAngel newsletter. Worth every penny of a paid subscription in my opinion.
We signed the purchase agreement, sent it over to Corey and got it back signed that same day. That meant the first half of the purchase price was due within two days (see Stumbling Block #2 above for how we had to make that happen). Once this was set, we started sorting through all the accounts that needed to be transferred. As part of the due diligence process, Corey had created a very helpful list of all the accounts that Kanban WP was already using and that would need to be transferred. This meant we were able to go down this list and make sure everything was sorted, one by one.
This will probably warrant a post entirely on its own, but as I was going through these, it seems like transferring ownership is not a use case that many SaaS products on the market today account for. Since having gone through this process, my "best practice advice" for how to handle a transition like this is to have a central company account that all these services are tied to so that for the most part, transfers don't have to happen at all outside the one email account and then resetting the passwords on each of the SaaS tools. This is a process we've already started now that we have taken control of Kanban WP and will be continuing until we've got things a bit more centralized.
The Last Check
After about a week, we had all the accounts transferred over with the exception of the Digital Ocean droplet that hosted the marketing site. We got on a Zoom to go over any outstanding questions that I had now that I had access to the entirety of the business for a week. With that, Corey transferred the Digital Ocean droplet to us and all the assets were officially transferred. We wired Corey the second half of the purchase price and we were the official owners of Kanban for WordPress.
Corey was super helpful throughout the entire process and honestly a buyer's dream in many ways. We're lucky that he's offered to still be available in the coming months to help us continue to get a feel for the business and in case there's any product-specific knowledge that didn't make it out of his head and into the incredibly detailed handover documentation he provided.
What did we learn?
There's tons of little things that go into a transaction like this, which is why I think people prefer larger transactions by dollar amount. You still have to do the same amount of minutiae, but can potentially have greater financial upside. That said, I'm super grateful to have gone through the process and am excited about the future of growing Kanban for WordPress.
In addition, it's important in the process of acquiring a business to have your "dealbreakers" defined. That allowed us to quickly pass on transactions that we knew we weren't interested in and let us spend more time on diligence for deals that had a better chance of working out.
Plans for May 2021
Automate the release of the plugins: The WordPress plugin repository uses SVN to let developers upload new versions of their plugins, which differs from the version control system that we use. Personally, I really don't like SVN and am just a bit scared of clicking the wrong button every time I use it. I never want to feel that hesitation to ship a new version of the plugin, so we're going to use the great GitHub Actions plugin from 10up to make sure that anyone on the team can release a new version of the plugin with just a couple clicks. This will also help remove me as a bottleneck for running a release.
Push hard on releasing v3: There's been a v3 of the plugin that's been nearly ready for awhile now and we want to get that out to all the users of the plugin. It improves performance and makes the entire Kanban WP experience a lot more flexible, with a ton of features that users have been asking for. We have a few things to wrap up, including writing a data migration tool so users can seamlessly move from v2 -> v3, but we need to get this out in May, with June being the very latest.
Tweaks to the marketing site: There are a few things we've identified on the marketing site itself that need a bit of work. For one, we're getting a ton of spam through the contact form in just the last couple weeks, so we need to get a form with reCAPTCHA or something in there to stop that. Then we're going to step through getting each page ready for the release of v3 that's coming up soon.
Customer outreach: We already have some really interesting insights into how customers are using Kanban WP, but I want to learn even more about how users are finding the product, what's working for them and what they would hope to see improved. Keep an eye on kanbanwp.com for more articles detailing how customers are using the plugin "in the wild" coming soon.
What do you want to hear about?
As useful as this newsletter is for compiling my thoughts and sharing them with the world, I want to make sure it's useful for you, the readers. Is there a particular aspect of the process of buying and running a small software company that you want to hear about? I could see a "Mailbag" issue going out every once in awhile where I answer reader questions or something along those lines. If you have anything you want to chat about, email k.koppenhaver@gmail.com anytime. I read every one of your submissions and always look forward to hearing from you.
Talk soon,
Keanan
[MSM #1] From 0 to Buying a Company