Hey there y'all. Apologies for not getting any issues out last month. Multiple things (including some discussed down below) made that an impossibility. Thanks for your patience! There's so much news we'll be back to our normal top of the month and mid-month issues in October! Let's dive in.
---
While some in the WordPress space reported some slow months in the late summer, we had a pretty solid August/September. We haven't had any huge marketing pushes yet and are still working on retooling some things behind the scenes. However, for a product that's been relatively static since acquisition, I'm excited about where we're at and what the potential will be when we finally do start pulling some levers. Now, onto some more specific wins and losses from this month.
The reviews start rolling in...
…or rather, one review came in. I talked in a past issue about how I included a prompt to review Kanban for WordPress in the signature of every email I sent out and we finally did get a review in the WordPress.org plugin repository.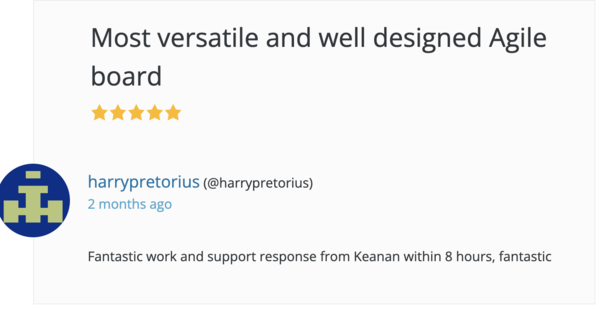 I was especially proud of this one because of how quickly we were able to resolve the issue. This shows that when we are really on top of support and can create great outcomes for our customers, they're more than happy to leave a review. I'm hoping we can do more of that in the coming months, as reviews are one of the best ways to get someone to give our plugin a chance.
Our First Big Refund
On the flip side, we also had to give our first refund for a customer that had purchased the lifetime plan. Originally when this customer signed up, they had a feature request, which we were happy to build, since it made sense for the plugin (see the full story in a previous issue). However, after this feature was shipped, they continued to have more feature requests and quirks in their particular setup that we couldn't reproduce on any of our testing servers. After a few weeks of back and forth, they cited their disappointment in the level of support they were receiving and asked for a refund.
While I tried not to take this personally, I know that in some cases we definitely need to be more on top of support. I think this is one of the things that it's easy for an acquirer to underestimate. Even if a seller says they only spend an hour or two on the application per week doing support, that's oftentimes because they know where different edge cases and things are in the codebase. Even with the most thorough training possible, I don't think that you should expect to come in and be that efficient from Day 1.
This makes it even more important that you're constantly watching the support inbox and starting to triage requests as soon as they come in. I'll be working this month to get the support mailbox down to Inbox Zero and then keep it much closer to that so that we're getting more of the positive reviews and having to do less refunding because customers aren't happy with the level of support they're receiving.
Dividends
When we originally acquired Kanban for WordPress, we made a plan to evaluate quarterly dividends for the three shareholders in the business. September marked the first quarter that we were actually fully in charge of the business and it was nice to be able to take a dividend distribution.
Costs for running the plugin are relatively low, so we were able to take some cash out and make sure we have enough cash in the bank to dedicated to any expenses that might come up. This will be particularly useful if we decide we want to make a big marketing push in the back half of 2021 or something similar.
But overall, this is the most concrete validation of our original investment thesis and assuages that fear that anything we invested in would immediately collapse and we would lose all the money we put in. Irrational for sure, but also hard to put out of your mind when you're making any acquisition, especially your first.
Another acquisition...
Astute readers may have noticed that I referred to Kanban for WordPress as my "first" acquisition. That's because, as of last week, I've also acquired WP Pusher and Branch.
It's been an ongoing background thread since about May and I'm super thankful to everyone who helped me get here. Some of you on this list were instrumental in making this happen They say that "your network is your net worth" and I truly felt that the last couple months. To everyone who answered DMs, made introductions, and even invested their hard-earned cash to help make this happen, thank you! The mid-month update this week is going to be an entire issue dedicated to how this deal came together, so be on the lookout for that!
Overall, I'm excited to put a big marketing push behind two solid products, expand the feature set to make them even more comprehensive and make two of the best tools for deploying WordPress code even better in the coming months and years.
What else?
Are there any questions you have that I didn't cover in this issue or is there something you wanted to ask about specifically? Just hit reply here, or if you're more comfortable with Twitter, my DMs are always open @kkoppenhaver. I'd love to answer your questions in a future edition of Micro-SaaS Monthly, so let's talk!
Until next time!
[MSM #7] September 2021 Month in Review